Campingaz 400 S 2 Burner Xcelerate LPG Gas Stove
Description
From hearty pasta dishes to tasty cooked breakfasts, cooking your favourite meals in the great outdoors is easy with the high-performance 400S stove. 
Featuring our innovative new Xcelerate™ Technology for unbeatable performance and economy, the 400S is guaranteed to perform, whatever the conditions.
For maximum convenience, integrated Piezo ignition offers guaranteed lighting, meaning you don't need to worry about wet or soggy matches when dinner time arrives. 
Ultra-portable, at the end of your camping trip the stove's locking lid and integrated handle form a carry case for easy transportation. 
specifications
Power:
 Xcelerate™ burner 2 x 2200W
Gas consumption
: 2 x 165 g/h 
Outdoor Boil time
 (at 3 m/s wind speed): 1L in 10min.
Lid:
 Painted Steel
Ignition:
 Piezo
Weight:
 6kg
Dimensions:
 55.5 x 44.5 x 46 cm
Runs
: off R904, R907, Butane/Propane cylinder
Runtime:
 9:30h (R907) 16:00h (5kg cylinder)
Fits Pan Sizes:
 16 - 26 cm (min./max.)
Features
Xcelerate™ Burner Technology
Cut your boil time in half with Xcelerate™ Technology. The combination of the Xcelerate™ burner and wind blocking pan supports provide the ultimate wind resistance for your gas stove flame. With Xcelerate™ you speed up your cooking time and by that reduce gas consumption. 
Xcelerate™ 
- The patented burner technology creates lower yet powerful flames and features a
down step
burner design, which makes the flame more wind resistant, producing results unmatched by regular burners.
WindBlock™ Pan Support - The patented pan support technology creates a barrier around the burner that provides superior wind deflection.
Multi-cooking Options
The essential camping companion with endless cooking options! Why not prepare an English breakfast with beans, sausages and toast? Or perhaps grill some fresh fish whilst cooking some pasta?
Stoves with Multi-cooking options offers the widest range of cooking options (stove top, grill, griddle, plancha,
wok
or roast - depending on the product).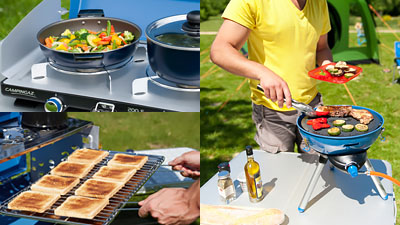 Easy To Transport
All the components can be stored inside the stove, making it easy to carry and transport. The legs are easy to assemble/disassemble and easy to store with the stove.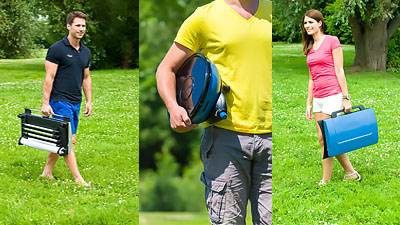 ---